Youth - Beth Jacob Congregation
The Kestenbaum Family Youth Department
Beth Jacob's youth department fosters an education that is rich in Torah learning, Religious Zionist ideology and Jewish History. Programs aim to develop future Jewish leaders and empower them to impact and improve the world around us. The Kestenbaum Family Youth Dept. experience provides positive Jewish experiences for kids, and enriches our community.
Rabbi Eli Broner, Youth Director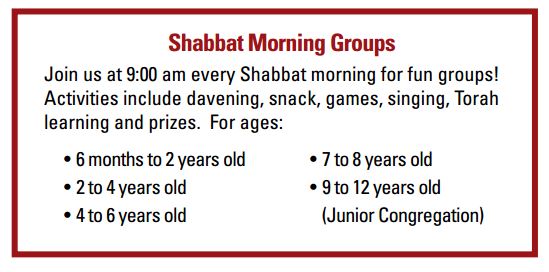 Youth Department Programs & Events
Dear Beth Jacob Youth Children,
We miss you so much and cannot wait until we are back together in Beth Jacob and have a great time in our groups. Since we will not be seeing you this week we have prepared some activities that you can do together or on your own at home.
Make sure to print this before shabbat so that you can do these activities on Shabbat.
We will be doing a raffle each Tuesday for anyone who has completed any or all of these activities. You will get one entry for each item you complete. You will also get ¢0.25 cents credit towards some awesome gift cards at some local restaurants.
So if you complete all these activities you will get 5 entries for a chance to win a $20 Amazon Gift card and $1.25 towards either Munchies, Pizza World, or Jeffs gift cards. The food gift cards will be given out after Pesach, so that you can accumulate money from more than one week.
Thank you to those who submitted their completed missions this past week The winner of our first raffle for $20 Amazon gift card is Gabriella Termeie. Looking forward to seeing who will win next week.
We hope to see you at our Family Pre-Shabbat Experience this Friday from 4:30pm-5:00pm. Look out for a separate email with login information. Click here to join
After Shabbat send this checklist to Rabbieli@bethjacob.org by sunday night, and you will get credit for completing your Mission.
Wishing you a fun and meaningful Shabbat
Rabbi Broner and Rabbi Muchnick
Fun for the whole family
plus raffles and prizes
Win Gift Cards for:
Amazon, Munchies, Pizza World, Jeff's Gourmet
Gabriella Termeie

Last Week's Winner

Thank you to those who submitted their completed missions this past week.The winner of our first raffle

for $20 Amazon gift card is Gabriella Termeie.

Looking forward to seeing who will win next week.
Helped in the House for Shabbat:
Take a moment and help your parents for Shabbat. Clean a room, set the table, clear the table, or any other chore that will help your parents.
Family Pre-Shabbat Experience:
Join our Beth Jacob Congregation for an inspiring pre shabbat family experience with Singing, Ruach, Story time and family interaction.
Tefillah:
Open up a Siddur and Daven just the way we do it in the program! You can do it. Here is a link to a Siddur you can print out and use. Or just use your very own Siddur you have at home.
Tehillim:
Tehillim is such a special Sefer. When Jewish people say the words of Tehillim it brings so many Brachot from Hashem. This week's mission is to say the chapter of Tehillim that corresponds to your age. For example: if you are 11 years old you will say chapter 12 , if you are 12 years old you will say chapter 13 Click Here for a pdf of the Tehillim you can print out for Shabbos.
Parsha:
This weeks Parsha is Vayikrah it is also the first Parsha of Sefer Vayikrah, we are starting a whole new book!! Wow. Here is a resource for many activities on the Parsha. Find the page that is suitable for your age. How many questions can you get right?
Food fun/Shabbos Shtick:
Can you guess what all of Rabbi Eli's candies have to do with this weeks Parsha. Get creative and answer the questions!
Parsha coming alive:
In this weeks Parsha there is a lot of talk about the Karbanot - offerings that would be brought to Hashem and places on the Mizbeiach - alter (See picture). Your Mission is to replicate this Mizbeiach out of things you can find in your house.
*Note: On Shabbos we may not build something that is a permanent structure. So be sure to make this project so it's no permanent.
Thank you to the Jim Joseph Foundation for their generous support of
our Youth Program in memory of Rena Slomovic z"l
Our Nut Allergy Policy
If your child has a food allergy, please make us aware of it. Click here to download our food allergy form and turn it in to the shul office.
Shabbat starts Friday: 6:59PM
Shabbat ends Saturday: 7:59PM
Tue, March 31 2020
6 Nisan 5780
Tue, March 31 2020 6 Nisan 5780