Youth - Beth Jacob Congregation
The Kestenbaum Family Youth Department
Beth Jacob's youth department fosters an education that is rich in Torah learning, Religious Zionist ideology and Jewish History. Programs aim to develop future Jewish leaders and empower them to impact and improve the world around us. The Kestenbaum Family Youth Dept. experience provides positive Jewish experiences for kids, and enriches our community.
Rabbi Eli Broner, Youth Director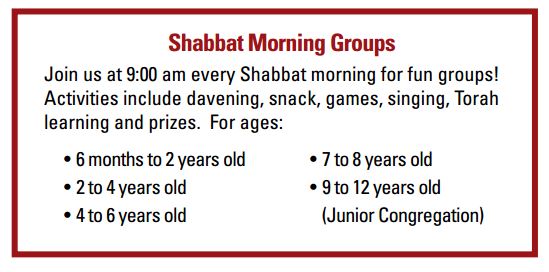 Dear Beth Jacob Youth Children,
It was so exciting to see many of you at our drive through ice cream party. I have already heard from a few of you about the postcards that you sent to our seniors to bring a smile to their faces, what a mitzvah. Below we have assembled some fun activities and learning for you at home. I know you would rather be in groups but in the meantime enjoy these materials and we will see you soon. Click here for a printable version of the material and make sure to print out before Shabbat so that you can do these activities on Shabbat.
We will be holding a raffle each Tuesday for anyone who has completed any or all of these activities. You will get one entry for each item you complete. You will also get 0.25 cents credit towards awesome gift cards at some local restaurants.
So, if you complete all these activities, you will get 9 entries for a chance to win a $20 Amazon Gift card and $2.25 towards either a Munchies, Pizza World, or Jeffs gift card.
Thank you to those who submitted their completed missions this past week. The winner of our raffle for a $20 Amazon gift card is Avi Broner. Looking forward to seeing who will win next week.
We hope to see you at our Family Pre-Shabbat Kumsitz this Friday from 4:30pm-5:00pm.
After Shabbat send this checklist to Rabbieli@bethjacob.org by Sunday night, and you will get credit for completing your mission. Click here for checklist.
Wishing you a fun and meaningful Shabbat,
Rabbi Broner and Rabbi Muchnick




AvI Broner
Last Week's Winner

Thank you to those who submitted their completed missions this past week.The winner of our raffle for $20 Amazon gift card is Avi Broner.

Looking forward to seeing who will win next week.
Helped in the House for Shabbat:

Take a moment to help your parents for Shabbat.
Here are some things you can do:

Clean a room in your home

Set the table for the Shabbos meal

Clear the table

Let your parents rest while you play a game with your siblings

Ask your parents how you can help
Family Pre Shabbat Kumsitz:

Join our Beth Jacob Congregation for an inspiring pre-Shabbat family kumsitz with singing, ruach, story time and family interaction.
Tefillah:

Open up a Siddur and Daven just the way we do it in the program! You can do it. Here is a link to a siddur you can print out and use, or just use your very own siddur which you have at home.

Understanding what we are saying in Tefillah is so important. Here is a SPARK page to help you understand what you are saying.
Torah Out Loud:

Here is a list of 2 Torah pesukim - verses. Say and learn these 2 Pesukim out loud (in Hebrew or English) by yourself or with your family. Send an email to Rabbieli@bethjacob.org and be entered into a special raffle for a $10.00 gift card on Amazon. *note you do not need to learn them by heart.
Parsha:

This week we read Parshat Naso. Here is a little summary of the Parsha. Happy learning! Click here for some cool statistics about the Parsha. Click here for Parsha questions. Click here for a challenging Parsha quiz.
Parsha Coming Alive:

Click here for Game it out & Discuss it out
Click here for a cross-word puzzle.

Pirkei Avot:

This week we are learning the first Perek of Pirkei Avot again. Here is a story based on the 4th mishnah in Perek 1. Enjoy!
Poem & Story:

Pick Your Table by Bracha Goetz.
Click here for a poem about giving!
Click here for a story - Throwing Stones.
Mission Checklist:

Print out these missions and fill them out after Shabbat and send them to rabbieli@bethjacob.org to redeem your tickets.
Thank you to the Jim Joseph Foundation for their generous support of
our Youth Program in memory of Rena Slomovic z"l
Our Nut Allergy Policy
If your child has a food allergy, please make us aware of it. Click here to download our food allergy form and turn it in to the shul office.
Shabbat starts Friday: 7:14PM
Shabbat ends Saturday: 8:21PM
Sat, August 15 2020
25 Av 5780
Sat, August 15 2020 25 Av 5780